David Herbert
@king.david
Home
The Chaser
@chaser
13 hours ago
"People can't change genders" insists man that believes Jesus can be a biscuit
The Chaser
@chaser
14 hours ago
Freshly retired CovidSafe app announces new $500,000 a year job in New York
The Chaser
@chaser
15 hours ago
Man unwinds from long day staring at screen with a few hours of slightly different screen
The Chaser
@chaser
15 hours ago
World hit with another disaster after Google outage forces everyone to use Bing
Podcast
@chaser
21 hours ago
https://open.spotify.com/episode/2RF5VcA4yYmGF8tPRsIitM Dr David Smith joins Charles and Dom to unpack the FBI raid of Trump's home in Florida. Dr Smith gives insight into why Trump may have been searched, and what the repercussions of this event are. Plus Charles finds out the perks to becoming a presidential candidate.
The Chaser
@chaser
1 day ago
Tragic news as the COVIDSafe app is shut down moments before finding its first case
Podcast
@chaser
2 days ago
https://open.spotify.com/episode/4PRaOdYFu0ywndzSydynv1 Mark Humphries shares the news that he will soon be hosting the Midwinter Ball and seeks advice from Charles and Dom. Charles shares an anecdote of the time he wrote a joke for the event that was so funny it lead to the collapse of a government.
The Chaser
@chaser
3 days ago
Trump's legal team rush to work out which of his crimes Trump was raided for
Podcast
@chaser
3 days ago
https://open.spotify.com/episode/2psa68etxlhQR5F1GVrXfP Mark Humphries joins Charles and Dom for the latest insider celebrity gossip. Mark and Charles spill the tea on the celebs they've both played tennis against and hold nothing back. Meanwhile rumours of Mark's poor serve are explained by Humphries himself. Plus the team investigates the longest interview ever recorded.
Podcast
@chaser
4 days ago
https://open.spotify.com/episode/6q8KzJfVRP0QRSz20GKQ3I Chris, Dom, and Charles sit together to rate different rating systems in order to get more podcast reviews. Chris tells the story of his worst Uber trip ever, and why he gave the rating he did for it. Plus why do we use Uber anyway? See acast.com/privacy for privacy and opt-out information.
Breaking Update
@iamolivia
58 mins
Scott Morrison demands schools expel trans kids so they can get back to driving forklifts
Podcast
@carolechavez
1 hr
Today on The Chaser Report podcast, Charles and Dom are joined by Floobey McGee to discuss his foray into politics.
The Chaser
@eric_alvarez
2 hrs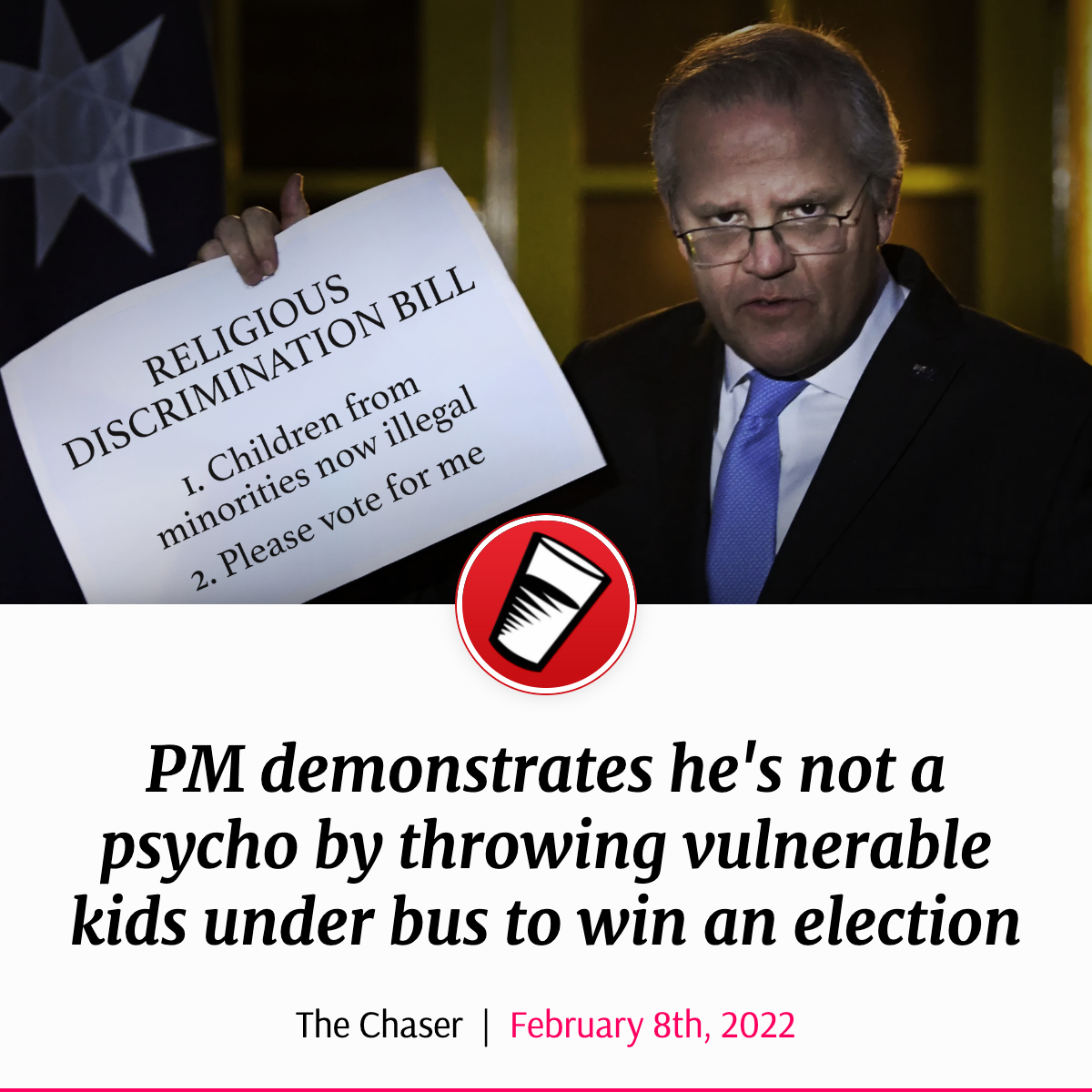 Harry Wilson
@Harrywilson
. 4hrs
There's no clear correlation between your background and what you are going to achieve in life..
Nora Chao
@chaonora
. 6hrs
Time to settle down and play my favourite game IN THE WORLD Earth globe europe-africa
Haven't played for about a month, too busy coding. So tired this evening though. Poker tournament with husband later..
Top News

ABC News

Scott Morrison pushes forward with Religious Discrimination Bill

274K Tweets

Sydney Morning Herald

Neighbours faces the axe after 35 years on air

154K Tweets

The Shot

A moving story from writer Dave Milbo

135K Tweets

Trending in Naija

#Dora

124K Tweets

Trending in Naija

#TGIF

43K Tweets